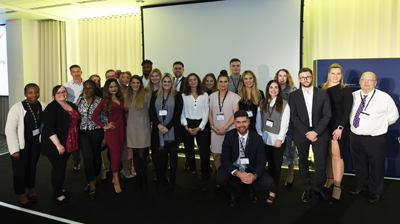 The brightest and best young executives in the asset finance industry have been revealed in the inaugural 30 Under 30 index from The Leasing Foundation, which was launched at the 2021 Asset Finance Connect UK Conference & Awards.
Edward Peck, founder of Asset Finance Connect, welcomed the candidates to the stage during the evening awards ceremony in London to receive trophies recognising their achievement.
The 30 Under 30 listing will be published annually to celebrate the most influential and highest achieving individuals in the asset finance industry.
This year's recipients represent 22 different lenders or service providers who together are investing in the future leaders of the industry.
Nathan Mollett, director at the Leasing Foundation, who received a Lifetime Achievement Award on the night for his work in supporting young professionals, said: "The Leasing Foundation 30 under 30 celebrates the individuals that are guiding the industry forward. We were inundated with nominations, all of which were of an incredibly high standard, which made the judging process very tough.
"In the end, we had to focus on looking at the qualities and the skills required to prosper in today's competitive and fast-changing environment. It is a privilege to shine a light on a diverse and impressive mix of next-generation leaders who are shaping the future of business finance. They all have great careers ahead of them."
The Leasing Foundation, founded in 2012, is a not-for-profit organisation that focuses on innovation, young people, diversity, and inclusion.
Mike Randall, chair of the Leasing Foundation, said: "These 30 ambitious professionals demonstrate the talent, drive and leadership to steer the asset finance industry through the next stage of evolution and disruption. It is heartening to see our industry in such safe hands for the coming years."
In alphabetical order (by first name) the Leasing Foundation 30 under 30 are:
| Name | Company |
| --- | --- |
| Adam Cunliffe | Time Finance |
| Alexia Perez-Rosell | Funding Circle |
| Archie Hall | Hitachi Capital |
| Aysha Ellis-Aziz | Netsol Technologies |
| Caterina Di Sapia | Alfa Financial Software |
| Charlotte Downing | Simply |
| Chloe Gibbs | Lombard |
| Christie Bell | Lloyds Banking Group |
| Claire Perman | Shawbrook |
| Debra Grimshaw | Asset Finance Solutions |
| Doyinsola Ishola | Alfa Financial Software |
| Eleni Simpson | DF Capital |
| Elliot Wilson | Haydock Finance |
| Elly Rowley | Lombard |
| Freia Janes | Wesleyan Bank |
| Hannah Tydd | Hampshire Trust Bank |
| Hayley MacFarlane | United Trust Bank |
| Jack Camilatto | Societe Generale Equipment Finance |
| Jamie Sangwin | SGEF |
| Jamie Smart | Lloyds Banking Group |
| Jenna Gass | Close Brothers |
| Jeremy Wright | QV Systems |
| Jessica Hall | Lombard |
| Lauren McQuilken | Metro Bank |
| Louisa Singo | Aldermore |
| Ricky McNeil | MAF Finance Group |
| Robyn Glenny | Simply |
| Sam Peach | Shire Leasing |
| Shannon Fairhall | Hitachi Capital |
| Tamara Hill | Aldermore |