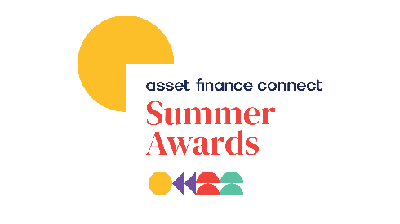 One of this year's community awards at the Asset Finance Connect Summer Awards is the AFC asset finance provider of the year award, to recognise a market-leading asset finance organisation or broker that delivers all-round exceptional value to its publics, whilst demonstrate a strong entrepreneurial culture which is innovative, ambitious and which embodies all that is best about the UK asset finance industry as it seeks to meet the needs of borrowers, particularly SMEs. Why not submit your entry now or nominate one of the outstanding organisations that you work with. Closing date for entries is April 14th.
Celebrating the people and organisations that are part of the auto and equipment finance industries, the AFC Summer Awards will be held on 12th July 2023 at the prestigious Hurlingham Club in London, book your table now.
One nomination for the AFC asset finance provider of the year award is Propel Finance highlighting their remarkable development and achievements over the past year, and overall contribution to the industry.
A human-digital asset finance lender, Propel combines the relationship-driven focus of industry experts with revolutionary technology. The company, which has a 27-year track record, are currently helping more than 45,000 businesses across the UK to access fast and flexible finance to acquire the vital equipment and vehicles they need to drive investment, growth and success.
This drive and focus resulted in Propel being named the UK's fastest-growing asset finance lender in the official 2022 Asset Finance 50 (AF50) rankings.
In the past 12 months, Propel has consistently demonstrated an unwavering commitment to achieving its strategic objectives, including: achieving the highest levels of business growth in the industry; disrupting the UK asset finance market through the application of ground-breaking FinTech innovation, thus enabling over one million SMEs the opportunity to access the fast and flexible finance they need to grow; implementing the largest strategic asset finance partnerships in the UK with large, high-profile corporate organisations; creating the best-in-class, end-to-end Customer Experience (CX) in the UK asset finance market, evidenced by an outstanding Customer Satisfaction Score of 9.7 out of 10; and focusing on sustainability, enabling SMEs to acquire more energy efficient equipment and electric vehicles.
Propel's emergence as a leading force in asset finance follows the development of landmark strategic partnerships with some of the largest corporate partners in the UK, including Barclays Business Bank, prominent accountancy firm Azets and global technology leader Samsung.
This is underpinned by Propel's revolutionary technology platform, 'Propeller', which has transformed the ability for SMEs to access finance through a frictionless, automated end-to-end digital journey.
Propel recently announced its first private securitisation, as part of a new c. £500 million financing round and is an accredited delivery partner of the British Business Bank's ENABLE Funding programme.
Propel's values are inextricably bound to their core purpose: to help SMEs 'drive forward' and boost their growth. Every key decision is guided by Propel's brand values, 'Personal', 'Progressive' and 'Partnering', which are central to the entrepreneurial & customer-centric ethos of the business and embedded in the behaviours of the team.
While SMEs represent 99% of all businesses and form the backbone of the UK economy, access to finance continues to be a critical constraint to SME growth. Propel is building its capability at the centre of the SME asset finance ecosystem, so that it is the go-to partner for SMEs, partners, vendors and platforms seeking solutions delivered with brilliant personal service.
Propel is building technology at the heart of its proposition, coupled with an unrivalled sector-specific understanding of its chosen markets.
As Mark Catton, CEO of Propel Finance notes: "We're small enough to care and deliver a brilliant personal service to our customers - and big enough to have the expertise and technology to be a leader in SME finance."
To see a full list of the award categories and individual awards, visit Asset Finance Connect's Summer Awards website, where organisations can add their nominations for award winners and book their tables for this year's must-attend event on July 12th.
Visit Asset Finance Connect's Summer Awards website HERE to place your nominations for award winners and to book your table.