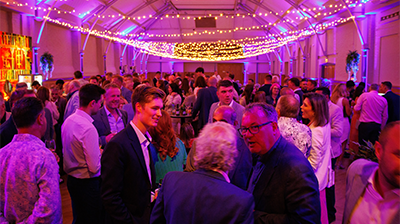 The Leasing Foundation has announced that its first ever asset finance Summer Party raised £35,000 for its 2023 charity, Wings for Life.
The epic event, which was held at the Honourable Artillery Company in London on Thursday 1st June 2023, was attended by over 300 guests from the leasing industry.
It included a live DJ, a summer BBQ, unlimited drinks all night and a silent auction with a range of amazing prizes, all donated by businesses within the sector.
Nathan Mollett, chair of the Leasing Foundation commented: "Our Summer Party was certainly a night to remember with an intentionally different format to a typical industry event, a stunning venue, and a truly diverse mix of finance professionals. It was great to see the asset finance community unite in support of a fantastic cause. A massive thank you to everyone that supported and made the evening possible. We have now raised almost £50,000 for Wings for Life which means more world-class scientific research and clinical trials can be funded in the quest to find a cure for spinal cord injury."
Philip White, patron, Wings for Life commented: "Our mission is to find a cure for spinal cord injury and we will only be able to do this with the continuing support of organisations like The Leasing Foundation. We are looking forward to the next steps of our exciting journey. We are so very grateful for everything the Leasing Foundation team has done this year - £50,000 is an incredible sum. Thank you to everyone who supported the event and helped us raise money."