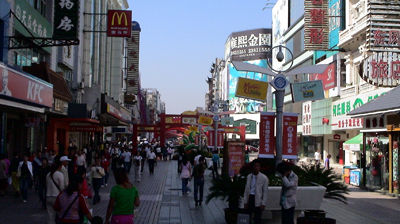 Technologies that offer immediate access to buy-now-pay-later services are leading to a boom in demand for consumer finance in China as buyers maximise their spending power.
For example, Wang Qianqian, a high school administrator in Shanghai, earns CHY6,000 ($871) a month, but still owns the new iPhone XS, which retails at around $1,000.
Qianqian is a regular user of Huabei, a consumer credit service, that is spreading the cost of the phone over 24 monthly instalments.
Qianqian's views on borrowing reflect the changing attitudes of Chinese consumers: "Borrowing money is no longer a matter of survival but the financial awareness to enjoy life in advance. If you can get a loan, just get it."
Huabei has achieved a non-performing loan ratio of below 1% since the service debuted four years ago, suggesting that consumers are maintaining their spending at an affordable level.
Technology means that finance is becoming available wherever and whenever consumers need it during their daily lives.
Mobility provider Didi Chuxing, which provides services including ride hailing and ride sharing, has officially launched a financial services unit.
The company aims to offer a diversified range of financial products for its passengers, drivers, car-owners and business partners, including credit and lending protection, crowdfunding products for severe illnesses, wealth management and auto finance services, all through its mobile app.
Customers can apply for a personal loan by providing their name, ID number, debit card number and mobile phone number.
Xu Xinchen, a 34-year-old public relations director in Shanghai, said: "It's always a good deal to borrow as long as you can manage your finances in a sound way, given money is worth less over time."
Although Xu can afford to use his salary to purchase daily necessities and luxury goods, he still opts to borrow.
According to technology-driven finance company Ant Financial, people are becoming more inclined to use delayed payment options.
At Taobao and Tmall, an online business-to-consumer retail platform, more than 30% of customers use payment plans.
In 2013, Jay Wenjie Xiao, founder and CEO of online consumer finance platform LexinFintech Holdings, introduced Fenqile, an instalment-focused shopping platform.
This allows consumers to spread the cost of any item at the point of sale, ranging from smartphones to shoes or even t-shirts.
Craig Zeng, CFO at Lexin, said: "Consumer finance will be the next gold mine for China's burgeoning financial technology sector.
"Traditional financial institutions rely on a credit rating system from the central bank to evaluate loan applications. But those who have credit records are usually individuals who already have a stable income and hence don't require consumer financing."
The rapid growth of finance is not reflected in availability of data about consumers to inform lending decisions; only 28% of Chinese consumers have a credit rating, compared to 86% in the US.
Instead, Lexin uses Hawkeye, a risk management tool, to combine big data and artificial intelligence (AI) to assess the creditworthiness of a consumer in seconds.
Vicky Wu, equity analyst for the internet, software, media and education sectors at ICBC International, added: "Data from internet companies are more associated with daily consumption behaviours, even in offline consumption scenarios. These data are more useful for risk control in consumer finance.
"Internet companies often have more specialists in artificial intelligence, system development and algorithm optimization, enabling timely detection of vulnerability and fraud."
According to market research company Oliver Wyman, the Chinese consumer finance market is expected to grow to $1.6 trillion by 2020 – equivalent to the GDP of Mexico – with a compound annual growth rate of 18%.