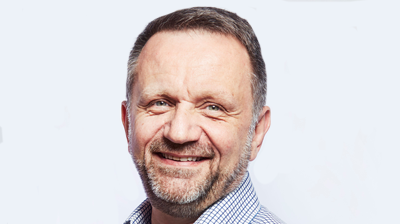 The ability to gather information in real time provided by the increased data connectivity in electric trucks will offer significant operational advantages for fleet managers, forecasted r2c Online.
According to the commercial vehicle compliance and maintenance software provider, the information available through connected vehicles could cover all major areas that affect operational fleet management – safety, maintenance, range, payload etc. If interrogated correctly, this form of data would result in much better-informed decisions being made.
Tim Meadows (pictured above), managing director at r2c Online, said: "Electric trucks are a very exciting development and they will definitely bring a much higher degree of connectivity than we have seen in the past. This will have a direct impact on how fleet management is approached in all kinds of potentially very productive ways.
"The technology to offer this degree of connectivity has been around for a while but it is really with electric trucks that we are going to see it adopted on a widespread basis, especially as the supporting infrastructure grows, we believe."
Meadows explained that this approach would enable fleet operators to become highly proactive; for example, by making them aware that a part will fail before it happens thanks to a sensor on the truck notifying them of the impending issue.
He added: "You'll also be able to see the exact range of electric trucks out on the road, so that you'll know which will have enough charge to reach a location and can make a decision from your desk about which to choose for the run you need. There are all kinds of possibilities.
"At the moment, we're looking at many different ways to make use of all this information in our software products. It's probably going to be a little while before we see connected electric trucks around in large numbers but we want to be ready to make use of their possibilities for our fleet customers as soon as they become available."
Founded in 2003, r2c Online is a UK-based provider of connected software platforms for vehicle compliance and maintenance management. The company has 85,000 users among 33,000 fleets, operating more than 15 million service records. r2c is owned by FLEETCOR Technologies, a global provider of commercial payment solutions.
Connected fleet tools for an electric world
One example of electric trucks sparking a surge of connected fleet products and tools can be found with Ford Commercial Solutions.
In an effort to facilitate the transition to electric vehicles (EVs) in corporate fleets, the company has announced a range of new fleet management tools to provide EV data, charging reports, web-based pre-conditioning and new features to secure vehicles and enhance driver performance.
These new tools are founded in EV-specific data such as kWh consumption, charge speed and distance-to-empty which will enable Ford's North American commercial fleet customers to monitor the performance of individual vehicles, optimizing running costs and uptime.
According to the company, these features will be available to all customers using the new Ford E-Transit – an electric commercial van that is set to be launched in Autumn 2021.
Julius Marchwicki (pictured above), chief operating officer at Ford Commercial Solutions, explained: "Our new connected services and telematics-based offerings from Ford helps fleets optimize the performance of their fleet and improve the performance of their drivers."
Furthermore, the new tools will arm fleet operators with the ability to optimize cabin temperatures while the E-Transit is plugged in to optimize battery efficiency, and if the vehicle is not plugged in to charge at the scheduled time, an alert is triggered for the operator. Additional tools allow them to remotely manage transactions for public charging and receive reporting to support reimbursement for employees who charge at home.
Boosting fleet efficiency
Alongside this development, Ford Commercial Solutions has announced the expansion of its fleet management offerings through Ford Telematics to help commercial fleet managers remotely monitor vehicles after hours and improve the efficiency of the overall fleet.
This couples with the introduction of in-vehicle, real-time driver coaching through Ford's SYNC 4 voice assistant solution. The software is designed to correct negative driving behaviours such as exceeding a speed limit, rapid acceleration and harsh braking by sending an in-car audio message asking the driver to correct their behaviour.
Marchwicki added: "We've heard directly from our customers how important driver coaching systems are to them. By integrating this service directly into our vehicles, businesses can better promote safe driving behaviour, optimize energy usage on their vehicles, and reduce wear and tear without installing extra hardware."
Additional features include:
Customers can secure and remotely monitor vehicles after hours;
Alerts will notify fleet operators if a vehicle is being stolen, being used without authorization, being towed or has been damaged while parked;
GPS tracking allows managers to locate vehicles even when they are turned off;
Driver ID for managers to associate specific drivers with vehicles in order to analyze performance metrics.