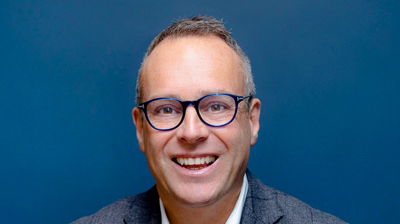 Forming a new community for the financial services, banking, automotive and growth industry sectors, recruitment specialist Mark Lyons is helping build a cycling network of like-minded individuals to bring people together for the benefit of raising money for charitable causes and keeping mentally and physically fit. The initiative will also serve to enhance the AFPA Trust ride calendar.
Speaking to Asset Finance International, Lyons (pictured above) explained that as the network grows over the coming months, he plans to establish virtual racing competitions with AFPA Trust. By conducting these races online, people are able to join in after work so they can be involved in friendly industry competition.
"I intend to arrange online races for people to attend as well as helping AFPA Trust setting up charity events throughout the year where we can choose to cycle indoors, outdoors, or a bit of both," he said. "Also, in due course, there will be a Strava club – an online exercise tracker for us to share our activities and give us all that competitive edge."
Speaking on why he formed the community, Lyons explained: "Back in my 20's I really got into my cycling, mainly to burn the calorie intake from alcohol consumption! Then marriage, children and everything that goes with that meant I stopped, and then couldn't keep up with my friends when I did occasionally go out. So, roll on 20 years and I decided to set up a local cycling group at the beginning of 2020 to bring together friends and new acquaintances.
"Having spotted a number of clients from work on Strava who I didn't know were cyclists I thought I should find a way to bring like-minded people together. Thanks to the pandemic, more people are virtual training than ever before – me now included. As we have all had a difficult 12 month's I can definitely say I have seen the benefits of how cycling can improve your physical fitness and mental wellness"
Industry partnerships
Lyons continued: "By supporting AFPA Trust, the finance community can raise funds for various charities. In future, I would like to see these virtual and physical rides become a regular gathering for the industry, in the same manner as industry dinners, although not as formal, swapping some of the alcohol for adrenaline! Fundamentally though, I'd like to see this become a great success for various charities and that this becomes a regular event that people get involved in whether they cycle 10, 100 or 500 miles. I will be also organising an AFPA Trust Northern road cycle later in the year to compliment the one LTi Technology Solutions are running for AFPA Trust in the South East on June 29th out of Marlow."
Inaugural charity event

The first event in the series see's AFPA Trust doing a Virtual Cycle Tour of Britain where the participants who are fundraising for lifesaving cancer research have the flexibility to choose how and when they ride, including stationary bicycles. The event will include seven (stages) days of riding from 7:00 a.m. on 7th May to 9:30 p.m. on 13th May 2021. All rider's mileage will be aggregated to see how much of Britain the riders can cover. The event is being sponsored by LTi Technology Solutions – providing leasing and loan cloud platforms, there will also be sponsorship opportunities for each stage of the Tour. For this inaugural event, the community will be raising funds for the The Christie Charity, which Lyons personally needed support from in the past and now wishes to give something back. To register for the event please go to: https://www.afpatrust.com/events/
Lyons explained that all fees will go directly to The Christie Charity and separate sponsorship can be supported through the Just Giving page: www.justgiving.com/fundraising/afpatrust-christiecharity Mark Lyons is a Director and Founder at Mark Lyons Recruitment, with 20 years of recruitment experience after an initial career working within the motor finance, asset finance and business information sectors.
AFPA Trust is a registered charity supporting good causes and improving connections in the lending, leasing, asset finance, alternative funding and banking arenas.
To find out more about the growing cycling community, please visit: https://www.linkedin.com/company/mark-lyons-recruitment-cycling-community/
Lyons concluded: "This is going to be a fantastic event and I look forward to seeing how much we can raise for this great cause."