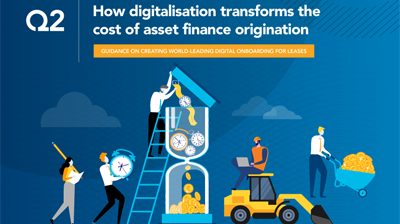 Manual processes are making lessors uncompetitive, slow and unresponsive at a time when digital solutions are transforming the operations of rivals, a new report launched today reveals.
A key example is the origination of new business, which for many companies remains mired in paperwork, processes and legacy systems that weigh heavily on decision-making, delaying approvals by days, if not weeks.
Companies chain themselves to manual processes that defy logic when viewed in today's digital, connected world. For example, there are as many as 20 steps in the manual process of completing a simple application form, when it is scanned and sent by email, only to be printed by the customer, signed, then scanned again and sent back.
This is archaic and heading the same way as the fax machine in modern business, and it is likely to influence customer decision-making when it comes to choosing suppliers.
Furthermore, digital origination reduces both the cost and time to serve customers for asset finance providers, making those companies that are digitally enabled more competitive and agile.
The benefits to digital origination and its benefits are revealed in the whitepaper, called 'Time and Money: How digitalisation transforms the cost of asset finance origination', which is produced in association with digital lending and leasing software specialist Q2.
The report includes:
Analysis of the imperative to change
Five definitive steps to achieve digital origination
Case studies of Shawbrook Bank and Asset Alliance
To download your copy of this exclusive new report, complete the form below.