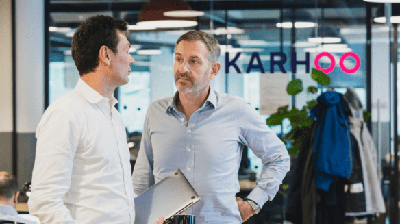 Start-up Karhoo, which is backed by the Renault Group, has signalled plans to expand its mobility service offerings by offering a way for taxi and PHV fleets to connect digitally and seamlessly with customers of reputed travel and hospitality brands. With demand for taxi and PHV services dropping during the Covid-19 pandemic, Karhoo has focused its activity in the development of its geographic coverage in Europe and North America.
Boris Pilichowski and Nicolas Andine co-CEOs at Karhoo, said: "In the month of March 2021 alone, Karhoo has implemented 25 new integrations, opening the marketplace to hundreds of taxi/PHV fleets who can now better promote their services to millions of potential customers when leisure and business travel resumes."
Karhoo offers a global intermediation platform which enables an organisation or business to add ride hailing and booking into their digital platforms, under their own brand name and with a seamless user experience. The company says this means nationwide and local fleets can therefore be more visible to a wider range of customers that would be difficult to address otherwise.
The company argues this model is particularly relevant for smaller and mid-size fleets because it allows them to make use of both the technology and the marketing strategies which usually only available to larger fleet operators and aggregators, such as Uber. It expects to set up a new customer within days of signing a deal.
In addition, fleets will receive the full expected fare for the journey, since the cost of using the Karhoo is paid by the customer for the convenience of booking through their favourite channel.
Partnership model
So far, Karhoo has signed up 3,000 fleets, representing two million vehicles, available in 1,500 cities in 125 different countries. It has partnerships with SNCF (France), Thalys (Pan-European), Renfe (Spain), Trainline (UK) and Booking.com (global), among others, to provide their clients with door-to-door travel experiences.
As an example, for the last two years Karhoo has powered SNCF's "Mon Chauffeur" service, booking transfer services to and from SNCF train stations via the Oui.sncf portal, for journeys scheduled of up to 12 months in advance. The platform is also used for SNCF Mobility as a Service (MaaS) mobile app "L'Assistant SNCF", and handles several hundred bookings per day.
"Karhoo is enabling first and last mile ride options for our clients using the SNCF train booking portal for pre-booking and the new MaaS mobile app for on-demand. The Karhoo Mobility Exchange product combined with the reactive support from their teams of industry experts allowed us to launch the service much quicker than if we had to sign agreements with individual fleets and implement multiple technical integrations." says Damien Wattez, head of new mobility and MaaS product at SNCF.
Looking ahead, Karhoo says it aims to extend its coverage by integrating new nationwide networks and local providers into its platform, focusing on eco-friendly electric vehicle fleets in order to meet brands and end-customer expectations.
Half (52%) of businesses responding to the 2021 Arval Mobility Observatory Barometer reported they had either already implemented an app to book mobility solutions, or planned to do so within the next three years.
Mobility momentum
Shaun Sadlier, Head of Arval Mobility Observatory in the UK, said that one striking aspect of its latest research is the degree to which all the potential mobility solutions mentioned are being taken seriously by businesses, suggesting this is an area where there is considerable momentum.
"Businesses are predicting that the implementation of various mobility solutions – such as car sharing, public transport, short or mid-term rental – will roughly double over the next three years. This is interesting because it reveals that the pandemic appears to be having a limited strategic impact in the medium-long term. Many mobility options rely on shared transport assets, which during the last year have been viewed as potentially increasing the risk of infection, but employers clearly don't believe this will be a problem beyond a certain point in time. "Also, planned adoption of mobility is much more pronounced among larger businesses. This is unsurprising. Mobility is very much part of a structured approach to corporate transport needs and bigger employers are bound to lead the way. However, we don't believe that this means smaller businesses will be left behind, just that the implementation of these ideas will be a little slower among SMEs," Sadlier said.