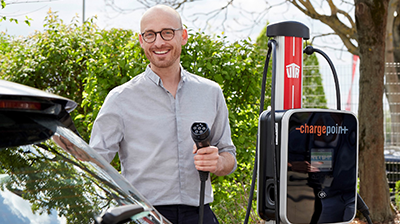 German customers of UTA Edenred, a leading mobility service provider in Europe and an Edenred company, can now use UTA eCharge, a new solution for charging electric and hybrid vehicles. UTA eCharge provides access to over 295,000 public charging points in 32 European countries.
Charging stations can be quickly and easily located via a smartphone app, and many stations allow the charging process to be started and stopped directly in the app. Stations in the UTA eCharge network are compatible with current electric vehicles and offer charging rates of 3.7 to 300 kW and more. Through transparent pricing as well as a uniform tariff, UTA eCharge delivers cost efficiency and predictability in fleet costs.
"UTA eCharge provides our customers with a complete solution for all their electromobility requirements, differentiated by a vast charging network, state-of-the-art charging technology, a clear tariff structure and transparent billing," says Richard Röhr, Sales Director DACH at UTA Edenred. "Electric-only fleets benefit from UTA eCharge just as much as mixed fleets. When used in combination with our fuel, toll and Plus Services such as roadside assistance, repair and vehicle cleaning, UTA eCharge significantly simplifies mobility across Europe."
While UTA eCharge will initially be available only to German customers, it will gradually be rolled out to other European markets. Work and home charging capabilities will also be introduced in the coming year to save customers even more time. As part of the offering, UTA Edenred can help customers to plan and install their own charging stations and wallboxes.
Alongside the launch of UTA eCharge, UTA Edenred is replacing its longstanding UTA Full Service Card with the all-new UTA eCard, which combines all UTA Edenred services, including alternative fuels, e-charging, toll and Plus Services, into a single card generating one bill. Customers who do not require e-charging, meanwhile, can use the company's newly designed UTA Card.
"By choosing between the UTA Card or the UTA eCard, our customers can opt for our classic range of products and services or for an all-round solution that allows them to charge electric vehicles and thus facilitate the electrification of their fleets," adds Richard Röhr.