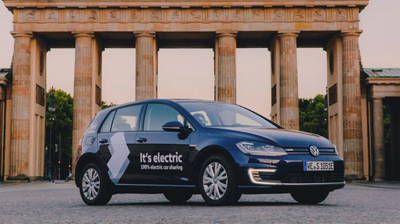 Volkswagen has launched a new car-sharing service, called WeShare, offering electric vehicles to customers in Berlin, Germany.
The manufacturer will provide 1,500 electric versions of its iconic Golf for the service, with an additional 500 e-up! city cars added at a later date.
It will also add the new full-electric ID.3 to the fleet following its official launch next year.
The WeShare service is 'free-floating', so vehicles can be left anywhere within a designated zone covering around 150 square kilometres in the city centre. Customers find the nearest vehicle and secure a booking using a smartphone app, then pay a time-based fee for each use.
Following the launch in Berlin, WeShare will expand to Hamburg in 2020 and also to Prague, Czech Republic, in partnership with Skoda.
Christian Senger, Volkswagen board member for digital car & services, said: "With WeShare, we have tailored car sharing to meet the needs of users. It is easy to use with 100% electric operation on green power.
"With such a consistent, broad offering, we stand out from the competition. We are outstandingly well-positioned to participate in the expanding car sharing market."
A team of WeShare employees will collect and charge vehicles when the battery level is low, although in future users will receive incentives to leave vehicles on charge themselves.
The launch is in response to the growing size of the car-sharing community, with Germany alone seeing a 14-fold increase since 2010, to reach 2.46 million users by the start of this year.
Rival manufacturers BMW and Mercedes-Benz have already developed their own global car-sharing networks (BMW's DriveNow and Daimler's car2go) which merged last year and subsequently rebranded to achieve the economies of scale needed to operate cost effectively.
The rebrand, to Share Now, creates a combined free-floating offering that has more than 4 million customers in total and 20,000 vehicles in 31 cities.
Olivier Reppert, former CEO of car2go, has been appointed CEO of Share Now, which is part of a €1 billion strategic investment by BMW and Daimler to create five shared mobility services. The other brands are Reach Now, for multimodal services; Charge Now, for EV charging; Free Now, for taxi ride hailing and Park Now, for parking.
There are more than 60 million active users of the combined mobility solutions provided across BMW and Daimler.
Volkswagen's rival car sharing service is part of 'Volkswagen We', which pools all the digital services available for people's own cars and beyond.
Services that have already been launched include several smartphone apps, such as We Park for sourcing and booking parking spaces, We Experience, for personalised shopping recommendations, and We Deliver, which makes the user's boot a delivery point for parcel services.
Through Volkswagen We, consumers can also source wireless software updates and functions on-demand for vehicles.